Enema Bags, Glass or Stainless Steel Enema Buckets
What Kit Do I Need?
Plastic Disposable Buckets :
PROS- Easy to read and see through container. Inexpensive beginner bucket for beginners who don't know if they will be doing enemas long terms.

Our 3.5 QT USA made plastic bucket is not disposable and can be reused for a few years.
CONS- 1500 Ml size import is designed to throw away after a small number of uses. Material can degrade over time.
We also offer a 3.5 Qt plastic bucket which is designed to last for 3 years.
Silicone Enema Bags:
PROS- For people who want a see-through enema container so they can monitor the solution level. They are good for water enemas. Wide mouth for cleaning inside. They are good for traveling as they are compact.
CONS- Not recommended for coffee enemas because the coffee will stain the bag. Not recommended for essential oil enemas, as oil will adhere to the silicone bag. More difficult to clean than buckets.
Stainless Steel Enema Buckets:
PROS- Chosen by people who want a durable, long lasting and easy to clean container. Our USA medical grade stainless steel is designed to last a lifetime of use. Excellent for water, coffee, tea, wheatgrass and essential oil enemas. Unaffected by coffee acids.
CONS- Cannot see through the bucket to monitor enema solution.
Glass Enema Buckets:
PROS- Very best material you can use for enema use because it is purely non toxic. Very best enema container if you are doing water, coffee, essential oil, wheatgrass or probiotic enemas. Great for people with metal allergies. See-through with measuring lines to monitor solution. Recommended for those with multiple chemical sensitivities. Easiest to clean out of all choices! Unaffected by coffee acids
CONS- Not recommended for beginners unless you can be careful in handling glass. Glass can break if dropped or hit against a hard surface.
Stainless Steel Enema Buckets: People love stainless steel enema buckets because they are easy to clean and durable.
Glass or Stainless Steel Enema Kits for colonic cleansing are the most recommended containers for home enema use. Glass and Stainless steel are unaffected by coffee acids and is recommmended for coffee enemas over other materials, such as silicone enema bags or latex rubber bags. They are long lasting and very easy to clean and sterilize. With stainless steel, there is no worry about bacteria growing inside, as can happen with dark moist enema bags with small necks.
Ratings for Purity and Non Toxicity
#1) Glass: considered the purest material for colon cleansing and coffee enemas.
#2) Stainless Steel: wont leech chemicals. Purelife USA 304 food grade stainless steel will last a lifetime of use and you wont have to replace it. Unlike disposable buckets and bags, the tubings can be removed for cleaning and replaced. Recommended by Gerson Institute .
#3) Silicone Bags - silicone material is a non toxic material, very durable, and is better than plastic or rubber latex. But all silicone material can break down over time and leeching could happen. After a 2-4 years the bag should be replaced. For coffee enemas, choose glass or stainless steel. Coffee will stain silicone.
Enema Tubing
Enema tubing or enema hose is the 5.5 foot long tubing that connects to the enema bucket . The enema water will flow through the tubing. Enema tubing should be non-toxic material that will not leech any chemicals into your enema water, because you want to keep toxins out of your body.
There are 2 types of enema tubing: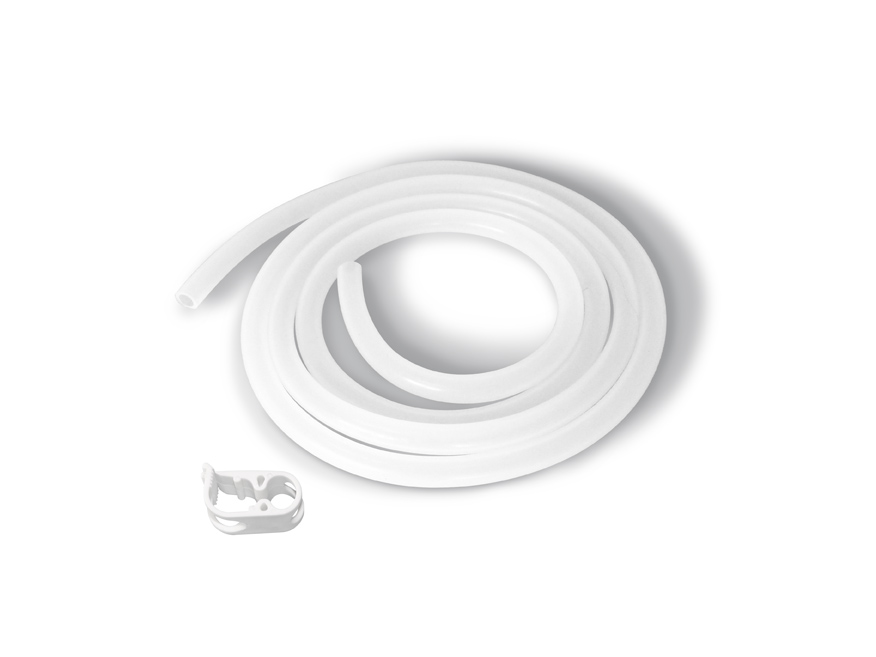 a) Silicone Tubing - Translucent - Flexible
PureLife Medical Grade Silicone Enema Tubing - Medical Grade Silicone is the very best in materials for water enemas and coffee enemas. It is absolutely non-toxic,extremely durable, Bp and Latex free. It is best for coffee enemas, because it cannot be degraded or affected by the acids in coffee. PureLife Silicone Enema Tubing is "Platinum Cured" which can tolerate high heat without breaking down. PureLife Silicone Enema Tubing can be re-sterilized after use by dropping into boiling water for 5 seconds.
b) PVC Enema Tubing - Not recommended for enema use.

A clear PVC plastic, which is more rigid and stiff. Not recommended due to possible leeching. Cannot be resterilized by boiling.
Enema Tubing Clinch Clamp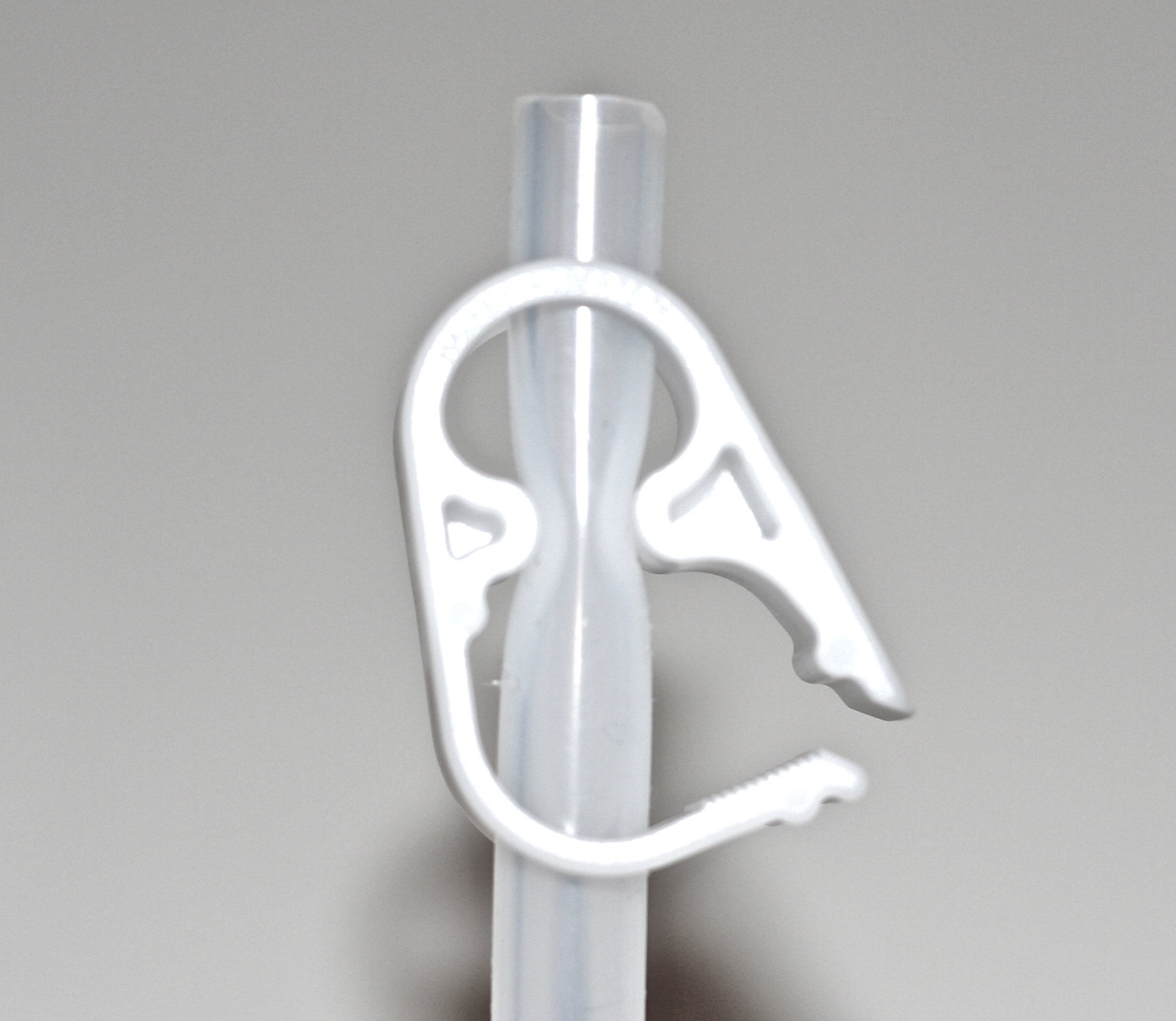 A tubing clinch clamp fits onto the tubing and can shut off the flow of enema solution or open the flow.
Medical PVC Enema & Douche Nozzles
Enema nozzles or enema tips insert into the rectum. PureLife Enema/Douche Nozzle Sets have 1 short enema nozzle and 1 longer douche nozzle. The short nozzle is for enema administration. The longer Douche nozzle is for feminine hygiene douching only.
*Warning: Only use the short enema nozzle for enemas. Never use the long douche nozzle for enemas.
An enema nozzle should be easy and comfortable to insert into the rectum. You do not want to tear or irritate any tissues. PureLife Enema Nozzles are called "straight-in" style, because they are straight. They measure only 1/2 cm for easy insertion. A little olive oil can be added to the tip to make insertion easier.

PureLife Enema Tips are made of medical grade white plastic and are 100% non-toxic, Bp and latex free. They can be cleaned by using a q-tip dipped in hydrogen peroxide, or washed with soap and water.
MEDICAL SILICONE ENEMA NOZZLE Silicone is a softer material, yet very durable. Non Toxic. Translucent . Can be re-sterilized in boiling water for 3 seconds.
Colon Tubes
Colon tubes are 16" long and 18Fr. They can be re-used. They are very thin and made of either medical grade PVC, latex rubber, or silicone, that attaches to the end of the short enema nozzle. By threading the colon tube up the colon, you receive a higher colon cleanse. It is used by Gerson Therapy Institute for Coffee Enemas. It is also recommended for those who have painful hemmorhoids and desire a very thin insertion.
Enema colon tubes are easy to guide up the colon. The colon tube has holes on the sides or on the end which allow water to flow through and cleanse the walls of the colon higher up.

Check Flow Valve
A medical check flow valve is a very helpful item to have on your enema tubing, as it prevents any enema solution from back-flowing back into the tubing. Often, due to natural air suction that occurs, enema solution can be sucked out of the rectum into the tubing, and will contaminate the tubing with bacteria.
PureLife Check Flow Valves can easily be added onto any of our silicone enema tubing. They cannot be boiled to sterilize.
Note: If coffee grounds get into enema bucket and tubing, it could clog the check valve. You can remove the check valve if you wish.
Underbody Protective Sheeting
Enema solution can seep out of the rectum while performing an enema, so you would want a cleanable and re-useable plastic sheeting underneath your body while performing the enema. Plastic Sheeting is recommended to place over a towel for easy clean up without having to wash towels. PureLife's Protective Sheeting for Enemas is 3 feet by 3 feet. Not recommended for those who have skin sensitivies.